High Definition Comfort
Great for all body types with a more firm feel than our Hybrid "coil and foam" mattress. Will outlast any mattress on the market. Remember, just because a mattress is expensive and feels great in the beginning doesn't mean it will last. Longevity is only achieved by using better materials. When you feel the overall weight of our mattresses it will be obvious that we overbuilt them! 
Designed by us for us and now available for you.
Are you sick and tired of buying foam mattresses that form a trench where you sleep after only a few months of use? Tired of being hot while you sleep? Well, so were we! That's why we decided to design our very own mattresses.
We went straight to the foam testing lab and asked one simple question- "is it possible to make a foam mattress that doesn't form a trench where a 200+ pound person sleeps"? The answer was yes, BUT it would require higher density and therefore more expensive foam - something the large mattress companies aren't willing to use due to price.
The CordaRoy's Classic mattress combines the  highest-quality memory foams to provide comfort and support that will outlast any mattress on the market.
Equipped with 3 types of cooling technology so you rest easy. Our foam scientists presented us with 3 options for keeping you cool on our Classic mattress and we responded, "yes, we'll take them all"!  Copper, graphite and blue phase change material work in tandem to conduct heat and pull it away from your body. Again, something the other companies aren't willing to splurge on. 
How can we afford to do this? At CordaRoy's, we aren't trying to disrupt the market. We're simply trying to make the best products we can make that make our customers happy and keep our customer service lines from ringing. We design products for ourselves then offer them to you. 
From CordaRoy's owner/founder
Get the inside scoop on mattresses
The best of everything!
Discover why CordaRoys mattresses outperform the others. The answer may surprise you!
We nailed it!
Searching for a mattress that won't fail by forming a trench where you sleep? We were too! 
Families
It's all about family at CordaRoys. 
Cooling
Be cool, stay cool. This is our coolest product yet! 
Classic or Hybrid
Classic "all foam" or Hybrid "micro coils and foam". Which model is right for you? 
Customer Reviews
Write a Review
Ask a Question
06/25/2021
Walter W.

United States
I recommend this product
Goodbye old mattress!
My partner and I are in love with this mattress. I'm on the hefty side and let's say I'm not the best to share a bed with. My partner is petite and would end up squished up next to me in our old bed. We were looking for something where we both could rest comfortably when our friend suggested this mattress. We've have ours for two weeks now and we're very satisfied with the level of comfort for the both of our sizes, large and small.
06/16/2021
Jonathan H.

United States
I recommend this product
Best Purchase in Forever
My wife had been complaining about our mattress for years. Her back hurt was always sore, neither one of us ever slept through the night. Heck, even our dogs started jumping down in the middle of the night to sleep on the floor. After much back and forth she finally convinced me to pull the trigger and my research started. My deciding factor was the cooling technology (though I was skeptical of it at first). Turns out, it's not just some marketing spiel as is often the case. It actually keeps me cool while I'm sleeping. My wife is happy now that I got rid of the oscillating fan that I had used to stay cool or, as she likes to call it, "middle of the night bathroom trip death trap". For the first time in who knows how long, I feel like I get a restful night's sleep. I would recommend this mattress to anyone in the market. At the introductory price, I would recommend this mattress even if you're not in the market. I promise you won't regret the best night's rest of your life. Also, my dogs no longer choose the floor. In fact, they don't even want to get up in the morning any more!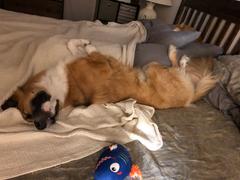 06/15/2021
Troy F.

United States
I recommend this product
Looking for a bed...look no further
I had been looking at all of the beds online that could be shipped to me. For I really don't like to go into stores for the most part and it doesn't typically fit in my schedule during the day. So I was really thrilled when I stumbled upon CordaRoy's new mattresses. They had a better guarantee than the others I had seen. I am really glad that I was able to get the classic mattress for it is a great fit for me. I like to sleep on my belly most of the time and this bed allows me to do that without waking up all through the night. Plus I don't wake up sore and hurting from this mattress. I'm very happy with my purchase and have told others. They need to make the switch to this type of mattress when they are in the market for a new bed.
06/15/2021
Sally

United States
I recommend this product
Classic Mattress
By far this is the coolest and most comfortable sleeping mattress I have ever owned. Being a larger woman I usually cause a large part of the mattress to be indented within months. This seems to always return back to it's original shape.
06/15/2021
Bob C.

United States
I recommend this product
Cooler Sleeping
Purchased this mattress to replace a latex mattress we bought 2 years ago. The latex would begin to feel hot within 15 minutes of getting in, and I couldn't stand it any longer. A friend was bragging about the 'Classic', so I grabbed one. Now that I've slept on it for 3 months, I can say that I honestly have not had a more comfortable mattress in my life. This mattress feels firm where you need support, but gives at high pressure points. It sleeps cool, and when my wife moves at night, I can't feel a thing on my side. This thing is as good as they claim it is.