King Chair - NEST Chenille
If you're looking for a cozy place to curl up with a good book or take a nap, the King NEST Chair in Chenille is just the thing! This cozy bean bag chair has built-in support for your head and neck, making it the perfect place to curl up with a good book or take a nap. It's also great for gamers for their all-night gaming sessions. Plus, it's perfect for any room in your home, from the living room to the bedroom to the game room.
When it comes to comfort, Chenille fabric is in a league of its own. This unique fabric has a soft, velvety surface and a distinct dimpled texture that feels amazing to the touch. In addition to being ultra-cozy, Chenille is also an easy-to-care-for fabric. With a removable, soft-spun polyester cover that can be machine washed and dried, you're sure to get years of use out of your bean bag.

Anyone who has ever hosted overnight guests knows the challenges that come with finding comfortable sleeping arrangements. Air mattresses are notoriously difficult to blow up, and they often lose air during the night, leaving guests to wake up with achy backs. Futons and pull-out couches are other popular options, but they can be equally uncomfortable with their metal bars. That's where the NEST chair comes in. Just like our convertible chairs, the NEST converts into a bed, providing comfortable sleeping space for guests. Plus, if you already have a Classic CordaRoy's bean bag chair and want to convert it into a NEST, you can purchase a cover in the corresponding size and easily convert it into a NEST Chair. So next time your friends come to visit, give them a place to sleep that they'll actually enjoy.

Our King NEST Chair in Chenille is a throne perfect for any king (or queen). This regal seat is fit for lounging and relaxation, with handy pockets for extra storage and a lifetime guarantee ensuring years of enjoyment. And our eco-friendly polyfoam filling provides unmatched comfort, while the chair's variety of colors ensures there's a perfect match for any decor. So go ahead and relax - your new favorite spot in the house awaits!
Chair Floor Space: 60 in. x 60 in.
Bed Dimensions: 76 in. x 80 in. x 10 in. (Standard size)
Box Dimensions: 16 in. x 16 in. x 45 in. (Vacuum packed)
Product Weight: 62 lbs
Contents: (1) King size NEST Cover, (1) King size NEST Pillow, (1) King size Bed
Please consider the floor space required and the weight of the product before ordering. Make sure you have the necessary space for a CordaRoy's in your home.
You can absolutely return it. We want you to be 100% thrilled with your purchase and we understand that sometimes it just doesn't work out. Submit a return request within 30 days of receipt and we'll be happy to help. 
Call 352-332-1837 or customerservice@cordaroys.com
INTERNATIONAL RETURNS:
All return shipping costs are to be paid by the customer.
Customer Reviews
88
reviewers would recommend this product
Write a Review
Ask a Question
01/25/2023
Carla W.

United States
I recommend this product
Really wanted to like it
We ordered the King size nest since we were getting rid of the bed in the spare room to change it over to my office. Being able to have a mattress inside a chair that took up less space seemed ideal. At first we thought that it didn't have enough filling because it was either leaning back or forward and it always had an indentation after sitting in it. So we reached out to Customer service. They said that possibly we needed more filling and graciously sent us two boxes of additional filling. After using one box of filling it made the bean bag so tall we could hardly get in it. Once we sat in it it still pitched forward, so that didn't really correct our issue. We ordered the bean bag ottoman thinking that would make it better and that didn't help either. We then ordered a different cover without the pillow thinking that possibly the pillow was making it pitch forward and that didn't help either. We really wanted to like it but we spent a lot of money and now all we have is a huge bean bag and a very small ottoman that just takes up space and no one sits in. It has never looked like the pictures on the website or in the videos. Customer service great…product very disappointing.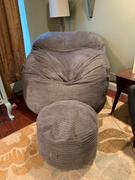 Hi there! Thank you for your review! We're so sorry you're not loving your beanbag. We're happy to help. If you need any assistance with your beanbag, let us know at customerservice@cordaroys.com!
12/09/2022
Cindy T.

United States
I recommend this product
First Time Buyer
So far we enjoy the chair, we are tall and was a little word about getting up and out of it! Haha. But it has worked out just fine. We just ordered the footstool and that will be an added plus. We got the king and it is heavy once it finishes "growing". But it's fine. We just shake it out after use. The best of all. The grandkids LOVE it. All found can pile up in it. So sweet!!
11/22/2022
Debbie C.

United States
I recommend this product
Nest chair
I purchased this as my son has 2. I'm a little disappointed as when you sit in it you are pretty close to floor. This should have had more filling in it. I thought about ordering second but I need to purchase stuffing somewhere for this one which I'm sure is costly. It's ok . I don't use as much as I want for this reason.
Hi there! Thank you for your review! Our beanbags are 100% adjustable just by adding and removing some foam. Someone from our team will reach out to assist.
10/07/2022
Karina M.

United States
I recommend this product
Great product!
I recently moved and was waiting on my bed delivery - I slept on the convertible bed for a week and it was perfect!
08/09/2022
Amy T.

United States
I recommend this product
2nd purchase of these
Favorite place in the house