Queen Chair - Corduroy
$349.99
Sale

• Save
Save 20% off with coupon code: SPRING20
A cozy chair is essential for any comfortable home, and our Queen Chair in Corduroy is a perfect option. With a 4-foot diameter that's perfect for kids, teens, and adults, it's large enough to lounge comfortably, but not so large that it takes up too much space. Whether you're looking for a reading chair for your bedroom or a gaming chair for your game room, our Queen Chair in Corduroy is a perfect choice.
It's incredible to think about how something as simple as a fabric can be the inspiration for an entire company. But that's exactly what happened with our signature Corduroy fabric. When Byron Young, the inventor and founder of CordaRoy's, first decided to make foam-filled bean bag chairs, he was immediately drawn to corduroy. "I had this old corduroy jacket and I noticed that every time I wore it, people wanted to touch it", Byron said.
The unique texture of corduroy fabric is what makes it so special, and it has such an undeniable appeal that Byron knew it would be a hit in the bean bag world and he was right! Ever since we introduced our first Corduroy bean bag chair, it has been one of our best-selling fabrics. And the more you use your Corduroy bean bag, the softer and more comfortable it becomes. Plus, the cover is removable and washer/dryer friendly so you can keep it looking as good as the day you got it!

Have last-minute guests and no extra beds to offer them? Those days are over! With this convertible bean bag chair that's fit for a queen, you'll never have to worry about uncomfortable springs, metal bars, or the weight limits that often come with air mattresses. Just remove the outer cover and voila! Your guests will enjoy a better night's sleep, and you'll wake up to rave reviews.
Here at CordaRoy's, we're all about comfort and our Queen Chair in Corduroy is no exception. Manufactured in the USA with top-quality materials like our eco-friendly polyfoam, our Queen Chair is perfect for any room in your home, and it's available in a variety of colors to match your decor. And if that's not enough, our bean bags also come with a lifetime warranty. In fact, our average customer keeps their CordaRoy's bean bag chair for approximately 15 years! So what are you waiting for? Order your Queen Chair in Corduroy today!
Chair Floor Space: 48 in. x 48 in.
Bed Dimensions: 60 in. x 80 in. x 8 in. (Standard size)
Box Dimensions: 16 in. x 16 in. x 38.5 in. (Vacuum packed)
Product Weight: 48 lbs
Contents: (1) Queen size Cover, (1) Queen size Bed
Please consider the floor space required and the weight of the product before ordering. Make sure you have the necessary space for a CordaRoy's in your home.
You can absolutely return it. We want you to be 100% thrilled with your purchase and we understand that sometimes it just doesn't work out. Submit a return request within 30 days of receipt and we'll be happy to help. 
Call 352-332-1837 or customerservice@cordaroys.com
INTERNATIONAL RETURNS:
All return shipping costs are to be paid by the customer.
Customer Reviews
94
reviewers would recommend this product
Write a Review
Ask a Question
03/19/2023
Rae

United States
03/18/2023
Anonymous

United States
I recommend this product
Love my Bean bag!
Well at first I wasn't sure, then as it fluffed a few day's and we turned it and let it fluff some more, it was perfect for The small room when the grandkids slept over! They can play! Around the bean bag and they love to watch movies and sleep on it, very comfortable for kids, my older daughter requires, sleeping by herself just a kid or two. But it works for us! Mainly for my grandkids. 7-13 yrs. Thank you for the convenience of the Corduroy Bean bag!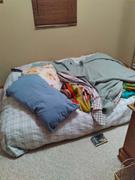 02/28/2023
Anonymous

United States
I recommend this product
Love
Love it! Has the right amount of fill, but good to know more can be bought and added if needed. So comfy!
02/03/2023
Bryan S.

United States
Awkward to sit in
It's big and cozy, and the kids love it, but I'm afraid as an adult I can't find a comfortable way to sit in the chair. Instead, it ends up "pushing" me out so I have to make a lot of effort to enjoy it. Mattress seems good, though we haven't used it much.
Hi there! Thank you for your review! We're so sorry you're not loving your beanbag. We're happy to help. If you need any assistance with your beanbag, let us know at customerservice@cordaroys.com!
01/24/2023
Mel D.

United States
I recommend this product
Good product BUT order from 3rd party to protect yourself
Ordered bag for daughter for Christmas. Proceeded with purchase because had bed inside, roommate had one and seemed nice, and it would be here Dec. 23 for Christmas. Ours had 4 delays and arrived late Dec. 29. The issue was our daughter was already back to college and we had the extra expense of a 4 hour delivery. (This company choose a 3rd party via fed x, which was a random pick-up, not fed x, drop off). I emailed the company understanding because we did have one day of bad weather hoping we could meet in the middle as UPS still was delivering despite weather and I didn't chose the shipper. I asked if they could offer a small discount simply to help cover fuel, not even time, to deliver. They wouldn't do anything. They said I could pay to ship the bean bag back at my expense. That shipping charge would be about my fuel to deliver. Just a bummer no understanding, compromise, or desire to honor their delivery date despite me sending screenshots showing the promised delivery date. I'd order the product if you want a bed inside. I'd just order from Amazon so they will Protect you. Sadly we try to give business to local businesses over places like Amazon. Sadly, this customer service is why amazons are causing independents like this to go out of business. I'm sharing to help others, I just hope this post doesn't keep them from honoring any warranty claims if ever needed.
Hi there! Thank you for your review! We're so sorry for the issues you had with FedEx. We completely understand how frustrating that can be. Unfortunately, We do mention that transit times vary with FedEx ground at the below link. If you need any additional assistance, please don't hesitate to reach out, we're happy to help! https://cordaroys.zendesk.com/hc/en-us/articles/360060613312-How-long-does-it-take-to-ship-